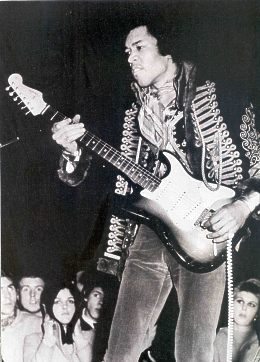 Hamburg, Germany 1967
JIMI PLAYS Tulip Bulb Auction Hall - Spalding, England May 29th 1967.

(1) At Spalding I saw Jimi Hendrix standing there, singing and playing as well as he ever could have done in his life. Foxy Lady was a treat, The Wind Cries Mary close to perfect, but by far the best was Dylan's "Like a Rolling Stone". Just imagine the soaring guitar riff between each verse in Jimi's hands, note perfect, with the man totally enjoying what he was doing. I can see and hear it now. We were standing about 6 back from the stage. As we knew what we were doing at big gigs we never gave up this prime site. One of us would go all the long long way back to the bar for refills when needed, and of course we'd take turns going for a pee. The sound system was about normal for the time (inadequate for most people in that huge space) and we had it about perfect. I also saw all of the bands close up and cannot remember any of the histrionics other people are reporting. Then again, aged 19. I was organising 'socials' at Lanchester College, Coventry (about 1200 people in on a Saturday night for The Kinks or Soft Machine). Cream were regular visitors (they played a good set at Spalding - up to their usual quality). We knew that Roy Wood's Move, Geno and Zoot would be very good value, which they were, and Pink Floyd? Still a new band with a 'light show', but interesting. They gave a performance which would have gone down fairly well in almost any student union bar at the time. Stadium rock was still a very long long way away. But Hendrix, for anyone who knew what they were doing at the time, was what made this one impossible to miss. After - what is it? - 41 years, I know I made the right decision to go. Keith Glazzard

(2) I think Hendrix started first and was loud, vocally incompetent, irritable and a male Diva! Everyone loved him though. He played his guitar with his teeth on 'Hey Joe', stuck the headstock of his Strat throught the mesh of his Marshall stack, threw a guitar into the amp and created a bue flash and smoke, and generally gave a show to remember. His sound balance was dreadful. This was normal at the time. Cream came on next, I think. Eric Of course the real highlight should have been Jimi Hendrix but he was in a foul mood. There was a long delay and Mitch and Noel looking fairly uncomfortable on their own. You'd have thought by then that they'd have worked out a little routine while waiting for the Man but no such inspiration. He then appears and plays a really viscious opening instrumental saying "we're just jamming" and then starts to complain that he's just come over from Germany as if that was all our fault. Eventually the set did settle down and I think "The Wind Cries Mary" might have been a high spot - his new release. But it was all over in half an hour (that set) and we were trudging out having a distinctly cheated feeling about the whole thing. Nothing much was said at school next day (my calendar tells me it was a Monday night).

(3)The only thing I remember about the Jimi Hendrix Experience was Jimi trying to get some feedback from the amps and a roadie trying to stop them crashing like a pack of cards. The scene was very similar to the photograph on the cover of the Jimi bootleg "Listen To This Eric". My biggest memory is that Jimi kept us waiting for ages and he irritated everyone so much that he received the slow hand clap. When he came on his mood was awful and he played a short set and finally pushed all the amps over and stormed off!

(4) The most popular bands were Geno Washington, Cream and of course Jimi Hendrix Experience....l sat and chatted with Jimi who seemed to be alone, and separate from his bass player and drummer.
Suddenly the dressing room doors (actually it was a large trailer), burst open, and crowds of people shouted THERES JIMI, and grabbed my yellow frilly shirt, which they thought was his. They ripped it up between themselves and ran back into the Car Park waving the shirt in the air saying...."we've got Jimi's Shirt"

(5) Jimi was in a bad mood though and was late going on....the sound was awful, so he took it out on his equipment smashing his amps and setting fire to his guitar....l've no idea what happened to the guitar, but chances are it ended up on the town dump with all the rubbish. Can you imagine its value nowadays?????